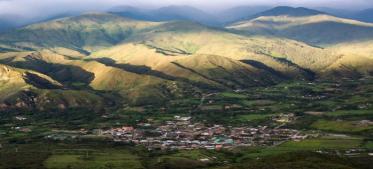 Tucked away in the deep south of the Ecuadorian Andes, Vilcabamba is a place steeped in legend.
It has been called the "Valley of Longevity" for claims of its large population of elderly residents. Locals, and some scientists, say that Vilcabamba possesses special, almost magical, qualities that promote healthy living. For its sheer remoteness, 40 miles from the Peruvian border, it has also been called "the end of the world."
Adding to the mystique, the valley is presided over by Mandango, an imposing rock formation known as the "Sleeping Prince" or "Sleeping God," said to protect the area from earthquakes and other natural disasters.
Whatever the allure, Vilcabamba has become a popular tourist destination and home to a growing community of foreign, mostly North American, residents. Ecuadorian officials say the valley has about 150 permanent foreign residents and there may be another 100 part-timers.  At an elevation of 5,000 feet, the valley has what many consider a perfect climate with temperatures averaging between 65 and 81 degrees farenheit.
Longevity Studies
Vilcabamba gained international attention in the 1960s and 1970s when scientists from France, the U.S., and Japan, hearing tales of natives who lived remarkably long lives, descended on the valley to take a look. Reports were that some Vilcabambans lived to the ripe old age of 120.
In 1973, a National Geographic article by Harvard Medical School's Alexander Leaf documented three years of research, reporting that the natives did, indeed, seem to enjoy longer, healthier lives. Precise reasons why were hard to determine, but the main elements, Leaf said, were clean air and water, good diet, and low stress.
Years later, other researchers, including U.S. medical physicist Richard Mazess, questioned the Vilcabamba study results and claimed that some of assertions were "baseless." Mazess found that many natives used the baptismal records and birth certificates of their parents and grandparents to establish their old age, a fact verified by others.
Leaf acknowledged that he and other researchers had been duped to some extent, but maintained, in a later article, that Vilcabamba was still an exceptionally healthy place. "The locals were having some fun with the egg-headed gringo scientists," he says, "but it doesn't change the fact that the valley is a healthy place to live, mostly because of a lifestyle of low stress."
Easy Living & Kindred Spirits
Vilcabamba's attraction for foreign residents are the stunning vistas, good weather, a relaxed pace of life, and a community of like-minded people.Bruce and Maureen Stewart, who built a house in Vilcabamba four years ago, say they enjoy nothing more than relaxing on their porch and taking in the scenery of the nearby Podocarpus Mountains.
"We sit there and marvel at the sky and mountains," says Bruce, a retired bank executive. "Because of the interplay of the sun, clouds, and mist, it's never the same and it's always a pleasure,"
Maureen, a former owner of flower shops in Florida, adds that the slow pace of life in Vilcabamba is, for her, one of the valley's major attributes. "When we return after visiting the U.S., it only takes us a couple of days to slow down and to lose the city 'hurry-ups.' We feel like we are back in the 1950s."
The benefits of fresh air, clean water, and stress-free living are the main draw for many. "One of the things that attracted me is the large number of folks devoted to living healthy lives," says Charlie Barron, a six-year resident. "As a vegetarian, I find myself among like-minded people. I don't have to make excuses for the way I live, like I had to back in New Jersey." Barron points out that well-known raw food expert and author, Matt Monarch, has taken up residence in Vilcabamba.
The culture of healthy living is supported by a number of local businesses. Frutas y Verduras, just off Vilcabamba's central plaza, sells organic fruits and vegetables, while other establishments, such as the Vilcabamba Juice Factory, run by an expat couple from Pennsylvania, offer a wide variety of organic juices.
Like Barron, Linda Bryant, a CPA who moved to Vilcabamba from Texas a year ago, is attracted to Vilcabamba's community of common interests. "There are so many expats here who are well-educated and who did not stop their education when they graduated from college. They continue to read and study, which makes them extremely interesting to talk with."
She explains: "Here, we can have conversations about such things as the possibility of a global pole shift and we find others with similar opinions. In Dallas, we'd be looked upon as though we had two heads."
There is a decidedly counter-culture bent to many Vilcabamba expats, says Barron. "There are some pretty far-out gringos here who believe that invisible space men walk among us and that some people turn into lizards after nine at night. We're big on conspiracy theories, too." He adds: "It's all part of the local color and it's all fun. I appreciate the fact I live in a place where people are allowed to believe what they want."
Bryant speaks for most Vilcabamba expats when she describes life in the valley. "Living in Vilcabamba is like being at summer camp," she says. "As a kid going to camp, the first thing I would do was talk to as many of my fellow campers as possible to make friends. That is what Vilcabamba is like all the time."
WHERE TO GO IN VILCABAMBA
The favorite pastime in Vilcabamba is relaxing around the central square and the best place to do it, everyone agrees, is in one of the nearby cafes and restaurants. Here are some local favorites. We don't include addresses, by the way, because no one pays attention to them; If you want to find a café or restaurant – or any business establishment in Vilcabamba, for that matter --ask a local and he or she will point the way.
Puntos Coffee Shop: Always good for a dependable cup of coffee.
Charlitos: Great hamburger and fries and the owner, Charlie, is always available with news of the goings-on around town.
La Roca: The steak place in town, known for sizzling prime cuts served on hot volcanic rock.
Timothy's
:
   Expat-owned sports bar famous for its ribs and wings.
Sambuca Cafe and Organic Market
:
   The owner grows his own on a farm outside of town. 
La Terraza: A mainstay among local eateries, has an extensive menu, including Mexican dishes.
Café Cultura at Hacienda El Atillo: Vilcabamba's answer to elegant dining; operated by a Japanese chef and his Korean wife; reservations only.
Shanta's: Known for the owner's expansive mustache and great pizza.
OTHER GOOD EATING CHOICES
Also recommend are the restaurants in four local hosterias: Jardin Escondido, Izhcayluma, and Madre Tierra 
WHERE TO STAY IN VILCABAMBA
The word for lodging in Vilcabamba is casual. Like Quito and Cuenca, Vilcabamba is a popular stop on the South American backpacker circuit and most hostals tend to focus on a younger crowd. Four of the most popular are:
Hosteria Vilcabamba, www.hosteriavilcabamba.com
Jardin Escondido, http://jardinescondido vilcabamba.com
Hosteria Izhcayluma, www.izhcayluma.de
Madre Tierra, http://madretierra.com.
Ciudad Vilcabamba