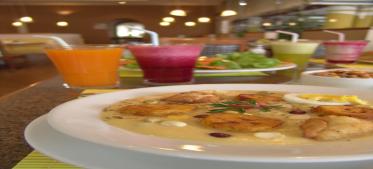 Though they surveyed about 5,000 establishments in Quito looking for the best fanesca – Ecuador's traditional Easter dish – researchers from the University of the Americas (UDLA) along with the Quito Tourism office, ultimately admit that the greatest fanesca is generally not for sale. It is grandma's recipe.
Nonetheless, over the past month Carlos Gallardo, National Director of the Tourism and Hospitality Factulty at UDLA and head of the Ecuadorian Chef's Association, led a full-scale effort to try to make the subjective tastes of the people of Quito a bit more objective.
Together with the tourism arm of the city, Gallardo and his team identified approximately 500 restaurants that offer fanesca throughout Quito. Their goal: identify the 12 best recipes available to the public, offered by establishments that also satisfy the needs of tourists and diners.
The winners were presented recently at the Carmen Bajo Monestary in Quito offering tastings as part of a kick-off to an Easter exhibition at the convent, which lasts through the end of the month and segues to a broader celebration throughout the city as Holy Week nears. 
Gastronomic Tourism
"If we ask everyone what is the best (fanesca) recipe we will always say our grandmother's, our mother's, our family's, and this is the best recipe we have," says Gallardo. "Now, how a tourist arrives at our grandmother's house is a little difficult."
   And for Gallardo this is exactly the point – to serve the tourist.
Andres Granja, part of the UDLA evaluation team, says, "The 12 restaurants were selected because our objective is gastronomic tourism…we selected the restaurants that can satisfy this necessity."
Gallardo adds, "Within the conditions that we evaluated, we looked a lot at the capacity of each to receive tourists, the quality of their service, and the sanitary considerations in each of the establishments." He says all of this was considered alongside the respect for the products, respect for the tradition, and respect for the recipes.
UDLA is at the forefront of investigating and promoting Ecuadorian cuisine with the objective of bringing greater attention to Ecuador's rich culinary heritage.
   For the past five years, with the support of UDLA, Gallardo has led a program called "Rescuing the Traditional Flavors of Ecuador," and traveled to every province in the country investigating, documenting, and promoting the culinary patrimony of Ecuador with the objective of establishing Ecuador on the global gastronomic scene.
"There is a grand evolution from a sustainable, culinary point of view that we have to have in one way or another," explains Gallardo. Using Mexican and Peruvian cuisine as examples, he says Ecuador is ready to join them in recognition at an international level. "We are completely prepared, with a solid investigation."
Fanesca
In Ecuador, food is often inextricably tied to cultural and religious celebrations and one of the best examples is fanesca, which combines traditional Andean ingredients – legumes and grains - with products introduced at the time of the Spanish Conquest, principally dairy products. And the implied symbolism of the dish offers testament to it's Spanish-Catholic roots.
Marcelo Bueno, owner of Mi Cocina Restaurant, one of the restaurants identified as offering the best fanesca explains the significance of the dish: "Fanesca is traditionally consumed from Ash Wednesday to Good Friday. The base of the fanesca are the 12 grains that represent the 12 apostles."
(This is also why UDLA and Quito Tourism selected 12 restaurants.) 
Undoubtedly there are slight variations in each of the 500 recipes that can be found throughout the city during Holy Week.
   Some restaurants insist on using 12 grains, while others use as few as nine and simply claim their fanesca contains 12 "ingredients."   And the word grain is used loosely, as it often includes legumes, tubers, and even melons (zapallo, a local pumpkin-like gourd is commonly included).
Hotel Quito Chef, Manuel Ponce, identified his twelve grains: Fava beans, garbanzo beans, white beans, bolon beans ("frijol bolon"), peas, peanuts, melloco (a local tuber), lentil beans, chocho beans, hominy, and red beans.
Fanesca includes other ingredients with religous symbolism.
   Cod, said to represent Christ, is an essential ingredient in traditional recipes.     Cod is often imported, but some restaurants also substitute with a national fish. 
And each fanesca has up to half a dozen garnishes, some of which include hard-boiled eggs, fried bananas, and mini-empanadas. They are said to represent the community of non-believers, which gives testament to the evangelization of the indigenous by the Catholic Church.
With fanesca as one of the most celebrated dishes in all of Ecuador it is an obvious choice for promotion. Luz Elena Coloma, General Manager of Quito Tourism, says this year's event is the first pass to create a gastronomic route in the city. She promises additional efforts throughout the year to showcase Quito and Ecuador's food traditions.
"It is our obligation as a city, as the office of tourism of the city, to place a value, to recognize, and to say to the world and the international tourist, and to say to ourselves, that we have a gastronomy of great quality and it is part of our attraction."
And though she sampled some of the twelve greatest fanescas in Quito she makes the same admission as so many others: "I am not a great maker of fanesca. I still have my mother thanks to God and I have my mother-in-law who makes the best fanescas in the world."
Mi Cocina Fanesca Recipe by Mi Cocina (Serving: 18 persons)
Ingredients
1lb beans
1lb fava beans,
1lb peans
1lb chochos
1lb corn
¼ medium-size cabbage
¾ bundle white onion medium-size zapallo
100 grams arrocillo rice
Parsley,
Oregano
¼ lb butter
Oil
10 cloves garlic, chopped
Pepper, crushed (a pinch)
1 liter milk
Optional:
1lb garbanzo beans
1lb lentil beans
1lb mellocos
Preparation
Prepare mixture ("refrito") of butter, onion, oil. Stir until semi-boiled. Stir in annatto (achiote), add chopped garlic and crushed pepper, oregano, and stir for five minutes. Next, add the cabbage, previously cooked and crushed, and stir until dissolved.
    Add the cod water.
Prepration of Grains:
Separately, peel, sift, and cook beans, peas, chochos, and corn.
Cook the arrocillo in a small quantity of water, add grains mentioned above along with milk, peanuts dissolved in milk, and zapallo (previously cooked and liquified in its own juices).
Finally, add salte, cream, and milk as desired.
Garnish
Accompany fanesca with the following garnishes: 3 pealed maqueños cut into small round disks, empanadas with cheese, "bolitas de harina" (fried flour balls), 2 boiled eggs cut into pieces, chopped cod as desired, 1 aji chili pepper chopped and without seeds, and a sprig of parsley for each plate.
Ciudad Quito