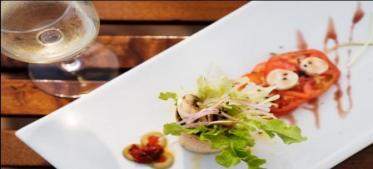 Following the example of its southern neighbor, Ecuador is beginning to seriously promote and position itself as a culinary destination. The world has known about Peruvian cuisine for the past twenty years and millions of visitors now flock annually to Peru just to taste their flavors; But, few if any, come to the Equator for the same purpose, despite the fact that its cuisine is just as rich and varied.
Evidence of Ecuador's culinary heritage has been revealed in a number of ways in recent years.
   In the past decade the restaurant scenes in Quito and Guayaquil have seen a boom, attracting dining options that one can find in any major city on the globe. Cookbooks dedicated to Ecuadorian cuisine have gained international recognition, reflecting an attitude of pride about the local food. And numerous chefs have undertaken initiatives to rescue Ecuador's gastronomic heritage by traveling to every corner of the country to find and document the recipes and techniques of this diverse nation.
So it was just a matter of time before someone started actively bringing tourists to Ecuador for the express purpose of tasting the food.
Recently, an alliance of hotels, haciendas, and restaurants launched a travel package that showcases the finest dining experiences in Ecuador, introducing tourists to a new world, one in which a fork is much more important than a camera.
Delectibly termed, "Ecuador Enriched," the alliance offers a fine dining travel package, which treats tourists to some of the finest delicacies offered through traditional kitchens and contemporary restaurants, while also enjoying the attractions of each region.
Stephany Reeson, Sales Manager for Casa Ceibo Boutique Hotel & Spa, and one of the coordinators for Ecuador Enriched, says traveling is as much about the food as it is about the scenery.
"There is no better way to explore a country than through its gastronomy. It is one of the pleasures of living and  combining a wonderful country with unimaginable cuisine options. It can make a trip a thousand times [more valuable]." She adds, "This tour is something that has not been done before in Ecuador."
It is surprising that the signature dishes of Ecuador are unknown to the outside world. Ecuadorian cuisine has evolved over many centuries, with many influences and it is as wonderful as anything one finds in the hemisphere.
"It is an undiscovered jewel, undiscovered for the international traveler and the international culinary world," says Fernando Polanco, General Manager of Hacienda Zuleta, a key player in providing tourists a taste of traditional, Andean cuisine. Like all Ecuadorians, he knows what the world has been missing. "Our food is part of our treasures," he says.
The Tour
The Ecuador Enriched Fine Dining Tour begins in the Andes. Upon arrival, guests stay in first class accommodations of the Swissôtel in Quito before departing to Hacienda Zuleta, a luxury stay in a centuries old hacienda and working farm. 
For two-nights diners will experience Ecuadorian country food such as quinoa soup, Zuleta's fresh trout au gratin, and their wide selection of famous cheeses.
   It is truly home cooking in every sense of the word.
From the high Andean countryside, guests return to Quito and visit Alma Restaurant where Chef Miguel de Arregui takes a slow food approach in serving a unique tasting menu.
At Alma guests sample green plantains served alongside foi gras, king prawn carpaccio, and a sirloin "mille feuille" served with celery root and braised leeks. It is an introduction to contemporary cuisine using Ecuador's immense variety of local products.
 The menu changes just as drastically as the scenery when guests fly to the coastal city of Manta and transfer to the Casa Ceibo Boutique Hotel & Spa in Bahia de Caraquez for a taste of Manabitan cuisine with a personal touch by renowned chef, Hugo Jimenez. 
Tourists are introduced to local favorites before getting a taste of Jimenez's creativity with plates like guariche cake in sal prieta crust and grilled octopus perched in a creole, Manabita tapenade. Where else could you even imagine a dish like this?
Finally, a return to Quito continues to offer a blend of Ecuadorian products, but this time with an emphasis on French techniques, at the Belle Epoque Restaurant in the Hotel Plaza Grande. 
Emilene Carbali, representative for the hotel and restaurant, says visitors will taste products and ingredients not found anywhere else."Our proposal is reflected in the different traditional recipes presented in a contemporary way, revitalizing products that originate from this country."
Though tourists will encounter a great variety of cuisine, this is not strictly a gastronomic tour of Ecuador, it is the fine dining tour of Ecuador, where wine pairings with each meal are just as important as the food itself. Wines from Chile and Argentina dominate the offering, but guests are also introduced to local wine production.
Since tourists cannot eat and drink every minute of the day, activities are scheduled, including tours to local markets and ecological reserves. And each visitors receives the highest level of service. Santiago Martinez of Gentian Trails, the travel agency coordinating the fine dining tours, says the destinations for Ecuador Enriched were selected with this in mind. "The properties, regions, and the experiences have been carefully chosen, therefore the combination of these elements makes an attractive choice."
Though the fine dining travel package is new, it is part of a broader trend by Ecuadorian travel operators to show the world more of their country and as Martinez points out, move beyond the one stigma of travel to Ecuador: "With fantastic food and different activities they will discover that Ecuador is not just the Galapagos Islands."
ECUADOR ENRICHED DESTINATIONS
Swissotel Quito, www.swissotel.com
Hacienda Zuleta, www.haciendazuleta.com
Alma Cocina, www.alma.com.ec
Casa Ceibo Boutique Hotel & Spa, www.casaceibo.com
Hotel Plaza Grande, www.plazagrandequito.com
ECUADOR ENRICHED CHEFS
Jose Maria y Doña Rosario, Hacienda Zuleta
Miguel de Arregui, Alma Restaurant
Hugo Jimenez, Casa Ceibo Boutique Hotel & Spa
Fabian Huertas, Hotel Plaza Grande
INFORMATION & RESERVATIONS
www.finedining.com.ec
www.gentiantrails.com
PACKAGE DETAILS
Standard package for 7 days/6 nights:
$2,615 per person, double occupancy
Includes accommodations, meals, taxes, service
Include flight, Quito-Manta
Ciudad Quito