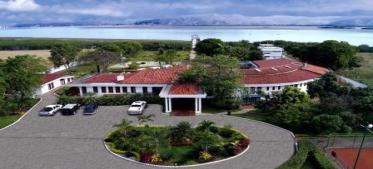 Ecuador's leading coastal resort, Casa Ceibo Boutique Hotel & Spa, has been coined the jewel of Manabí. Hidden along the Spondylus Trail, a new coastal tourism initiative for international travelers, Casa Ceibo sits like an undiscovered pearl, found only by those who know what they are looking for: exquisite, coastal luxury.
But Casa Ceibo is much more than a top-tier resort. It offers a contrast of realities: luxury and adventure, fine dining and traditional coastal fare, and contemporary design among ancient artifacts. Located along the Chone estuary, Casa Ceibo sits where the fresh water meets the salt water, one of the last places you expect to find such a precious gem.


Luxury and Adventure
Casa Ceibo, a five-star Green Diamond hotel, is now a veritable fixture in a region that's developed an identity for its beloved natural resources, giving visitors an experience not found elsewhere within Ecuador's rich boundaries.
The hotel itself has 18 rooms distributed along a curved, two-floor design in a stand-alone building near the pool. Contemporary Ecuadorian artwork lines the walls, and lush gardens are part of the exterior lay out and aesthetics. But just beyond that perimeter is a world of adventure that seduces most Casa Ceibo guests who come mainly to relax.
Co-owner Daniel Jacome says the hotel offers its visitors an enticing opportunity to sneak away from the pool — if they wish. Kayaking, bird watching, and exploring the surrounding ecological and wildlife reserves are all part of the Casa Ceibo experience. But the area of Bahía de Caráquez offers other treasures, such as archaeological history and artisan crafts. As Jacome, a long-time Galapagos tour guide says, "The concept was to have a similar experience as in the Galapagos with many customized activities to do and sights to see."
The region of Bahía de Caráquez is a birding paradise, so much so that Casa Ceibo has partnered with top ornithologists and sponsors, developing
its own birding guide for the region. "Birds of Bahía de Caráquez," by W. Miles McMullan and
Andrés V
á
squez
, catalogues 360 species of bird, including the great Magnificent Frigate birds, which have established one of their largest colonies in the estuary. The nearby La Segua Wetlands, Cabo Pasado Forest, and Cerro Seco National Park offer not just birding and other naturalist opportunities, but also meet criteria as great adventure-tourism destinations.
Cuisine
Recognizing that great travel is inseparable from great food, Casa Ceibo has taken extra care to offer a distinctive menu that's surprising, artistic, and palatable. After all, the exclusive hotel and its restaurant are located in the heart of Manabí, home to Ecuador's greatest cuisine region. 
Award winning, Peruvian chef Hugo Jimenez and his fellow chefs provide guests with never before seen culinary encounters: Manabítan cuisine with Peruvian influences, combining the tastes and traditions of the coast with Jimenez's own "cocina del autor."
Consider for example: "Tiraditos de corvina" prepared in a huacatay sauce with milk – a warm coconut soup with shrimp, coconut milk, shaved coconut, and a honey made of red wine as the finish to give it a surprising sweet aftertaste. It is a soup, disguised as dessert, which gives the surprising sensation of being both at the same time.
There is a different menu every night as Casa Ceibo takes into consideration the preferences of its guests. The hotel's restaurant also features tasting menus where diners will encounter dishes created only at Casa Ceibo.
Much of what makes Casa Ceibo so valuable is not only the luxury or the cuisine, but also its status as a Five Star Green Diamond Award winner for the past three years, a recognition given by the American Academy of Hospitality Sciences. It is the only hotel on the continent to be recognized both for its high level of service and commitment to the environment. Casa Ceibo is also certified by Smart Voyager, another acknowledgement of its continuing green practices and social consciousness.
Casa Ceibo sits among the natural mangrove forests of the coast, which saw immense human destruction in the past decades but is now being reforested with the hotel's help. Casa Ceibo works together with the local Portovelo community and the Environmental Ministry to preserve the mangroves and educate visitors about their importance with trips to Isla Corazon Reserve, an activity that cannot be missed.
But it's not just the mangroves that need attention. Casa Ceibo, in conjunction with the
Fundación de Agua Muisne and the Unidad Educativa Satiasay, is developing a water purification project that offers clean water at a fraction of the price provided by municipal sources.
The attitude towards business responsibility at Casa Ceibo also includes a social component that recognizes the environment is more than trees, wildlife, and the estuary. It includes the people of the bay.
 The hotel has established the Eco Club for the children of Portovelo as a first step toward local conservation, education, and tourism development that involves local residents. 
And to ensure such impacts reach future generations, Casa Ceibo has taken one more step:
 working together with the local Catholic University to provide scholarships and internships in the areas of ecological tourism, marine biology, and business management, so that one day Casa Ceibo is merely part of a larger picture of a self-sustaining and self-sufficient community.
Casa Ceibo has clearly rooted itself firmly in the local community. It is now part of the estuary backdrop and a part of the bay region's social fabric and ecological system. 
Casa Ceibo Spa and Boutique Hotel is located 75 minutes, by taxi, from the Manta Airport. They are located at Km 5 ½ on Avenue Sixto Durán Ballen in Bahía de Caráquez. Contact them at their Quito office, 02-224-2913, Bahía office, 05-239-9399, visit the website at
www.casaceibo.com
or write at
[email protected]
.
Casa Ceibo is also part of the new "Ecuador Enriched" Fine Dining tourism initiative that introduces the extremely varied, rich culinary traditions of Ecuador with tours from the highlands to the coast. Check it out at
www.finedining.com.ec
Mention this code MHE2012 and your third night is free.
Stay 2 nights or longer and the last night is FREE
Ciudad Quito