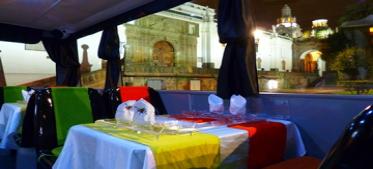 Evoking the history and mysticism of Quito's historical center, a new vehicle is now making inroads into those old streets of El Centro – one that serves cocktails.
Casa 1028 Mobile Bar, a large black bus that voyages to the heart of Quito, offers passengers anecdotes, appetizers, and a few glasses of wine, all of which help to blur the line between history and legend.
The mobile bar belongs to a small group of partners, including professional tour guide Francisco Rodas, who are venturing into familiar territory on new wheels. They travel only at night and their intention is to alleviate some of the challenges facing evening visits to El Centro, while putting a new twist on an old experience.
Francisco explains: "There is still a lot of insecurity walking at night. The cold and rain also is a factor that inconveniences many persons. And the altitude, if we are talking about visitors walking through El Centro can be a little complicated especially for older people."
The point of Casa 1028 he says, "is to be in a secure environment, a relaxing environment, to visit a good part of the attractions of the historical center."
   And of course, enjoy a few drinks and snacks.
But Francisco is quite clear about something else. "Our proposal is not a city tour…the idea is that we are offering a nocturnal, panoramic drive while you enjoy a glass of wine and selected appetizers." 
The experience is meant to be more than just a drive through town, but less than a history lesson. It is a brief journey through mythical Quito, where legends are told, which are as much a part of the identity of the city as the colonial architecture.
The route begins on Orellana Avenue and makes stops at Quito's iconic landmarks such as the Basillica Church, Cathedral Church, San Francisco Plaza, amd Independence Plaza. At each stop, as the waiter pours another glass of wine, Francisco offers a brief explanation of the significance of the site and when appropriate includes the telling of one of Quito's mythical tales, such as the Legend of Cantuña or the legend of Casa 1028, which Francisco has appropriated for the name of their venture.
"Among the legends of Quito it is one of the better known ones," says Francisco.
   It is the story of a beautiful girl who attracts the attention of a bull at one of Quito's bullfights.   She leaves the event, only to be followed by the bull that enters her room and kills her before disappearing into the streets of Quito.   The idea of naming the bus after the legend was part of their initial design.
"We had the idea to transform the bus, internally, into a colonial house…the tables, chairs would have a colonial style – the form, the structure…the decoration would be like a colonial house," Francisco explains. But as their ideas matured they opted for a modern bus to reflect the reality of Quito today: "It is a modern city that has its historical center."
Since this is not officially a tour, Francisco offers only small bits of information throughout the drive allowing guests the principal activity of simply conversing and enjoying the scenery as they eat and drink.
"The themes we explain are very concrete. Here we manage a tour methodology [that is] a little more lucid. We tell histories, important facts that have passed in these sites – the type of things that can be more attractive in one way or another and can remain in the minds of the passenger," he says.
The trip begins at 7:00 p.m.
   - a two hour ride with several brief stops, a welcome drink, four glasses of wine, and appetizers throughout the journey.    All are served by a professional waiter.
Francisco says, "The idea is that you can take the ride and still have the opportunity to go to dinner afterwards.
    This is why we offer light appetizers, so the person has an appetite in case they have planned dinner."
The foods have a gourmet presentation, such as cheese balls with sambo seed (a type of pumpkin seed) and crab filling, heart of palm ceviche, mini ham (pernil) sandwiches, and "causa de papa," which resembles a traditional locro soup dish but is much easier to consume than soup on a bus.
For those who prefer a meatless journey, Francisco says, "We offer the possibility that if you are vegetarian of have some restriction we send a worksheet in which you can register that information [ahead of time]."
Serving food and drink on a bus that is continuing in motion through the rough and hilly streets of El Central can be a challenge. The Casa 1028 engineers have come up with two solutions to make the ride quite comfortable. 
First, "We only serve wine when the bus is not in motion." And second, acrylic trays and specially designed glasses are used to keep all liquids and food where they belong: on the table, and not in your lap.
The bus has four tables that seat four people and a smaller two-person table, for a total seating capacity of 18. A bathroom is installed and a sound system plays background music, though live music can be scheduled with prior notice. A Spanish-English bilingual guide is standard but other languages (French and German) are available with advance request. And charter groups may extend the trip an additional hour for the chance to visit the Panecillo Hillside.
The Casa 1028 Mobile Bar, as it tumbles through old town, is anything but covert, framing the easy-going party inside for passersby on the street. Driving through the labyrinth of Quito's colonial past it maneuvers through the cloud that obscures the line between history and legend. A time machine, it is not; but, travel it does through selected chronicles in the biography of a city that is less forgotten by time than remembered more and more in a new way.
For reservations contact Casa 1028 at 02-255-9918 or 099-972-958, or write to
[email protected]
.
COST
Foreign Groups
1-10 persons, $45
11-18 persons, $40
National Groups
1-10 persons, $35
11-18 persons, $30
Reservations: minimum 24 hours in advance. Charters require minimum 8 days reservation. Kids 5-12, 50% discount. Guides or tour leaders, 50% discount. Taxes, tips, and extra drinks not included.
www.casa1028.com
facebook:CasaMilveinteyocho
skype:casa1028
02-255-9918 / 099-972-958
Ciudad Quito